What can we say other than WOW. Members of the West Philadelphia Senior Community Center contributed over 600 baby items for families who are experiencing homelessness.
It's More than Giving – It's a Labor of Love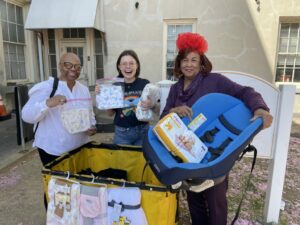 The Center's Dazzling Diamonds Red Hatters club organized a collection drive to support Families Forward Philadelphia's "Spring into Giving Week". They picked this particular project because of its mission to families and close proximity to the Center.
The club has been doing community service projects at the Center for 14 years. "We love doing things in and for our community," shared Ruth Gaskins, 'Queen' of the Red Hatters. "For us, it's a labor of love."
Using pink fabric, rattles, lace and other items, the group decorated a box used to collect the items. They placed it in a visible location at the Center so that it was easily accessible to members. The box also served as a daily reminder of the project during the months of March and April.
Delivering Items to the Shelter
On April 20th, Program Manager Julia Diggs and Ruth, along with Red Hatters' members Samantha Howard and Louise Fisher, delivered the items to Families Forward Philadelphia. Elise from Families Forward greeted them at the shelter.
As the group was unloading their cars, several mothers from the shelter were outside with their babies, enjoying the beautiful Spring day. Elise explained that the shelter houses 65 families. Each family is given their own private room.
The 600 items donated through the Red Hatters collection included:
Bottles and brushes, burping towels, bibs, sippy cups, spoon and bowl sets and food containers
Bath towels, wash cloths, baby wash, powder, oil, and lotion, Vaseline and comb sets
Socks, booties, hats, mittens, clothing, and onesies
Changing pads, diapers, diaper bags, wipes, diaper rash ointment and hand sanitizer
Different size blankets including receiving blankets, many hand-made
Baby carriers and car seats
Pacifiers, teething rings, toys
Thank You to All Who Participated
On April 21st, the Red Hatters thanked members at the Center for helping them collect so many items. To show their appreciation, they also gave away prizes.
Ruth notes, "Giving back to the community is good for all of us. It keeps our minds busy while reminding us of what we have and how fortunate we are."
The West Philadelphia Senior Community Center extends our heartfelt thanks to the Red Hatters for leading this fabulous service project, and to all of the members who contributed items.
Families Forward Philadelphia focuses on keeping families together and helping them navigate the way back home by offering housing, comfort, support and hope.