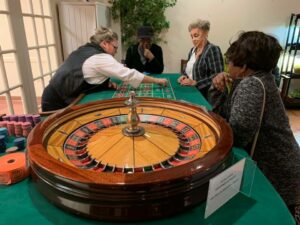 At The West Philadelphia Senior Community Center (WPSCC), age is just a number. Here, staying connected, making healthy lifestyle choices, doing what you love, and helping others are ingredients to happiness after retirement.
Johnnie Young, a member of The Center since 2015, knows all about successful retirement. Johnnie became a member shortly after she retired from the Philadelphia School District.  Her friend had been a member for quite some time and after telling Johnnie about the many activities The Center offers, Johnnie knew she wanted to join. "They do a lot at The Center," Johnnie says.
When Johnnie retired she was experiencing difficulties with her back and her doctor advised against physical activity. Since Johnnie is an active person, this news was a bit discouraging. With exercise out of the question, Johnnie came across The Center's sewing classes. "I've always enjoyed sewing. My mother was a seamstress, and I've sewed for many years, but after I got married and had children, I had no time," she reflects.
After discovering The Center's sewing classes, Johnnie knew this was the perfect opportunity to keep herself busy and revisit the passions of her past. "I started sewing at The Center on Tuesdays and Wednesdays. Tuesdays are for beginners, and Wednesdays are advanced. I've always been pretty advanced," she laughs modestly.
Attending the classes each week, Johnnie has sewn beautiful garments and she loves wearing her creations in The Center's fashion shows each year. "I have made some really nice outfits," she admits. Johnnie adds that she also enjoys attending The Center's quilting classes. "I go to quilting classes on Wednesdays. I've made three quilts!" she says with pride. "One for my new grandson, and two for myself."
As Johnnie's health and back issues subsided she even began attending The Center's line dancing. "With line dancing on Monday and Thursday, and sewing and quilting, I am at The Center almost every day."
You can help ensure happiness for older adults in West Philadelphia, like Johnnie. Give a gift to WPSCC and support programs like our sewing classes that bring joy and fulfillment to so many members. Visit our Giving Page.
The staff at WPSCC are really there for their seniors. They do everything they can to help us.

Johnnie Young, member of WPSCC since 2015
Getting Involved: Johnnie Joins the Monte Carlo Night Planning Committee
In addition to the many classes and activities Johnnie enjoys at WPSCC, she is proud to be the Center's Treasurer and member of the Advisory Board. Always thrilled to get involved, Johnnie has also helped The Center plan fundraising events that raise money for their wide variety of programs. One of her favorites was The Center's Monte Carlo Night that took place in October. In fact, Johnnie served as Chair of the event's Planning Committee. "The Monte Carlo Night was the greatest event yet," Johnnie says excitedly.
With slot machines, casino card games, delicious food and drinks, bingo, and even a DJ room set up for dancing, all of The Center's members had a wonderful night. "I enjoyed being in an atmosphere where everybody was smiling. It was wonderful to see everyone come together."
Johnnie says that part of what made Monte Carlo Night such a happy occasion was the Center's staff who helped make it possible. "The staff here are the nicest people you will ever find," Johnnie says.
Raising $16,890.73 for The Center, Monte Carlo Night was an event worth celebrating as it will help WPSCC continue to support its members. Executive Director of The Center, Rose Richardson, extends her heartfelt thank you to the Monte Carlo Night Planning Committee and to all of the staff, volunteers, and members of the community who made the event a tremendous success.
You can help ensure happiness for older adults in West Philadelphia by making a gift that supports events like Monte Carlo Night. Join Johnnie and others in making sure that the Center always has something to offer our members. Visit our Giving Page by clicking here.