Ms. Suedell, who grew up with a stutter, found her voice through writing. At Sunday school, her teacher, Ms. Helen, taught her that reading develops the mind. She took the message to heart.
"I was a storyteller for the library," Ms. Suedell shares. "I volunteered. I read stories to the children." Hearing stories inspired the children's affection for storytelling. "They wanted more and more stories. Every place I go, I always find something that I can do for the children and for grown people too."
Among the things that she does is create her own stories and poetry. "I love to write things about people and the things that people do" Ms. Suedell shares.
She enjoys creating for the members of West Philadelphia Senior Community Center, where she's been a member for years. The people and the programs inspire her. She composed a poem about her fellow members' habits and routines.
Ms. Suedell displayed her skill for spontaneous poetry after a recent class ceremony in which ten members received certificates for completing the Generations on Line class. The class helps older adults feel comfortable using technology in their daily lives.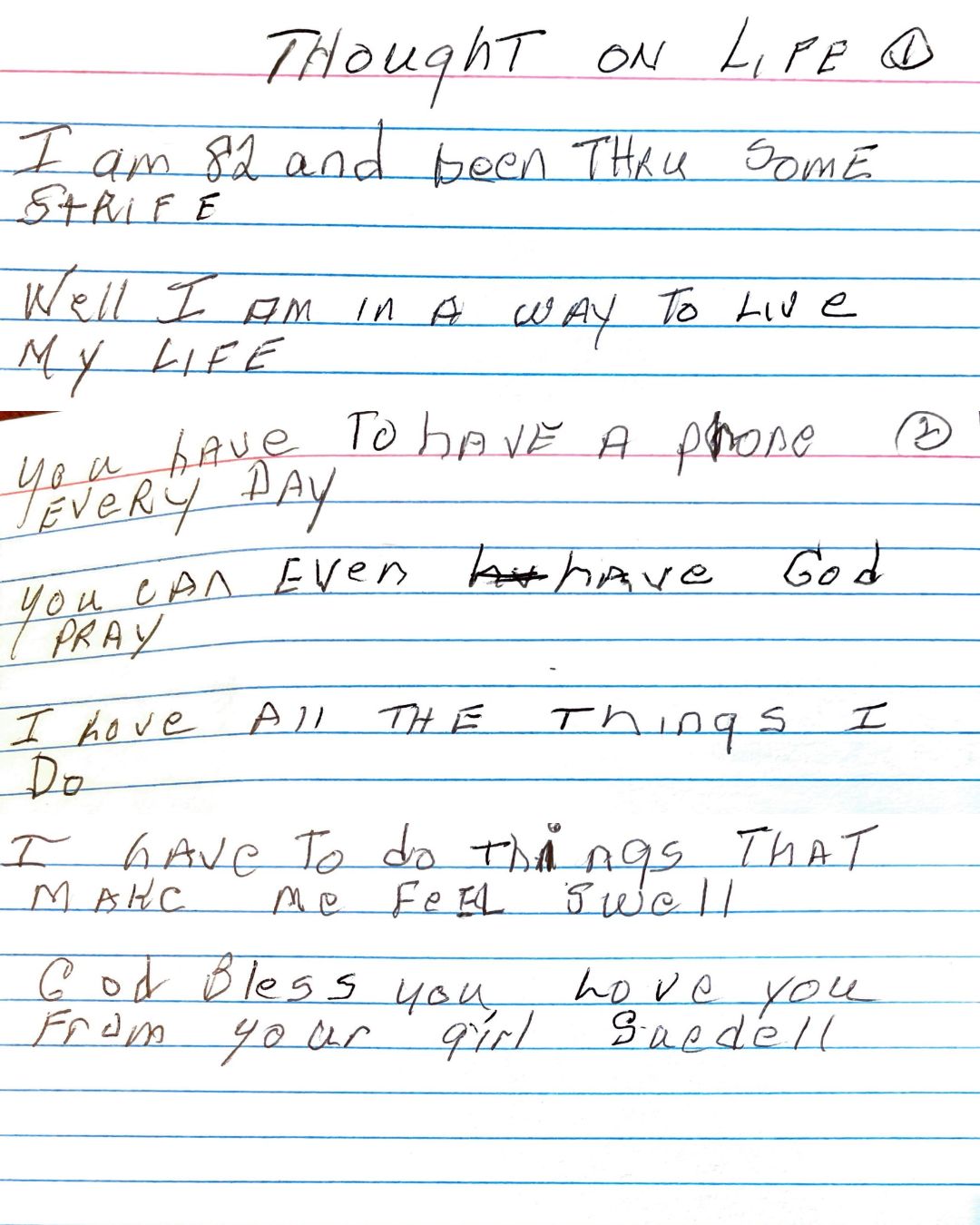 Inspired by what she heard, Ms. Suedell composed a short reflective poem, writing:
Technology has taken over,
Everything in every way.
You can even have God to pray.
I have all the things I do.
I am creative, and if you know me,
That's true.
Ms. Suedell likes to evoke the reader's feelings, believing that people feel stories and poetry the most when they hear it. Earlier this year, a small group of students from School of The Future heard Ms. Suedell recite her poem 'Po Man' for a project promoting collaboration between generations. Black history and her South Carolinian childhood inspired the poem, which portrays an enslaved man who reflects on poverty, freedom, and the riches God bestows on people.
"I put my all into reciting the poem," Ms. Suedell states.
Her creative fire remains lively.
"Life is so short! Sometimes, I have so many things I want to say," she reflects. "I love things that are creative, things that make you think, and that help you. I'm 83. When you're creative, it helps your mind, because it never stops. Some people think that when you get old, the creativity stops. It gets bigger because you've seen so many things go down in front of you already. Here you're getting older and older. You're still going to think and remember things.
"That's a blessing."