Earlier this year, members from the West Philadelphia Senior Community Center and West Philadelphia's School of the Future worked together on a project that highlighted health, wellness, storytelling, and the importance of learning across generations.
"We wanted the members to share their journey as a way to show the young students the way to go," says Lynn McCullough, Adult Nutrition Educator at the University of Pennsylvania's Netter Center for Community Partnerships. The Netter Center partners with the West Philadelphia Senior Community Center as well as a variety of schools in West Philadelphia.
"Youth and elders alike have a voice and valuable perspectives to share, so we created space for positive dialogue," adds Sophia Canady, Nutrition Educator at the Netter Center.
The student volunteers gained interview and communication skills through a series of interviews with three members of the West Philadelphia Senior  Community Center. The members were Miss Suedell, Miss Barbara, and Miss Jessie. The student volunteers were Sanaa, Matisyn, Aniya, and Jasir. Lynn brought members from the nutrition class that she teaches at the Center.
"We want to help strengthen relationships in the community by providing a space where older people can meet younger people in West Philadelphia," Lynn shares.
The interviews fostered wonderful intergenerational communication and insights.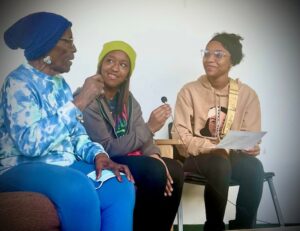 In the first interview, Miss Suedell shared words of encouragement and recited her published poem "Poor Man".
In the second interview, Miss Barbara took the students on a food journey into the past. She also shared stories from her time as one of the first Black flight attendants in the 1960s.
In the third interview, the students learned about the importance of civic engagement from Miss Jessie. She shared stories of her involvement with her church and community. The conversations were recorded as a podcast pilot with hopes that it will become an ongoing series.
"It has been a true joy to see the student volunteers expand their interview and communication skills," Sophia says.
"The members really enjoyed the experience," Lynn adds. "You could see them opening up in a different way to the students because they wanted to share their experience. It wasn't just fun—it was meaningful."
The partnership between the School of the Future and The Center is a collaboration between the University Assisted Community Schools, Netter Center/AUNI-SNAP Ed Nutrition Educators Lynn McCullough and Sophia Canady, who both serve school-age and senior
populations in West Philadelphia. In further collaboration with Netter's Nutrition Systems Manager, Maris Altieri, Penn Media Assistant, Emilia Onuonga, and SDP Athletic Director, Coach Jessica Tosto, they launched the Be-Wise Be-Well PSE project.